Founder, Owner
Dr. Nix graduated from LSU's School of Veterinary Medicine in 1979. She began her practice of veterinary medicine in Augusta, Georgia and then moved back to New Orleans to become medical director of the Louisiana SPCA Clinic. Dr. Nix opened Chateau Veterinary Hospital in 1984.
She enjoys working with new puppy and kitten owners, spending the time to help make the new relationship a successful one. She also likes diagnosing and developing treatment plans for her patients' medical conditions and helping them through successful surgeries. Through continuing education, she strives to provide the most up to date information on patient care.
An area of special interest is pain management. Dr. Nix is committed to the idea that no patient should feel pain if it can be avoided or at least minimized. She is a member of the International Veterinary Academy of Pain Management to allow her to continue to learn about pain management in acute and chronic conditions.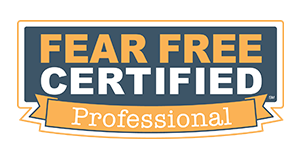 Dr. Nix's dedication to providing a positive and comfortable environment for your pets care led her to have Chateau's team to study and become Fear Free Certified Professionals and then to have the entire hospital undergo a rigorous examination to become the second FEAR FREE CERTIFIED HOSPITAL in the country.
Dr. Nix has a Yorkie mix rescue, Stella, with whom she competes in agility, and a generic cat, Mae, sometimes known as Not Nice Kitty.