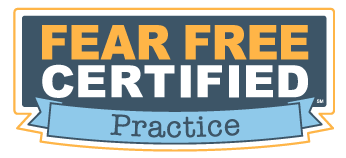 We take great pride in the fact that Chateau Veterinary Hospital became Louisiana's first Fear Free certified hospital (and the second in the country) in April of 2018. To this day, we remain one of the only completely certified Fear Free practices in the state.
Why is this important to us and to you? The doctors and staff at our hospital enthusiastically embraced the Fear Free model because we consider our clients and their pets to be part of our extended family, and we want to ensure that our patients' experience with us is the absolute best it can be—gentle, compassionate and anxiety-free as possible.
From the beginning, Dr, Nix knew that establishing a Fear Free practice was a perfect fit for the culture at Chateau Veterinary Hospital, and we pursued certification so that our patients and their families could benefit from this kinder, gentler approach to treating pets.
---
What exactly does "Fear Free" mean?
The motto of the Fear Free approach is to "take the pet out of petrified"—and there's a very good reason why this is important. Pets who experience anxiety and stress with veterinary visits usually see the vet less often. Pets who don't get regular preventive and routine medical care often end up with not only diseases and conditions that could have been prevented, but that also could have been reduced in severity if caught early.
The certification is an exhaustive process ensuring that the fear-free principles are embedded in the culture of the practice and all aspects of care, including patient handling, client education, staff training and best utilization of the facility.
---
---
All the doctors and most of the team must be individually certified through eight hours of continuing education, an extensive self-assessment of the practice must be done, and a comprehensive on-site evaluation of the team and the facility must be completed.
Common differences you will note at practices with Fear Free certified staff include the use of treats and praise throughout the visit. If your pet has an allergy or food sensitivity, be sure to let us know ahead of time and bring along the high value treats you use at home. We also make use of pheromones, natural chemicals, and scents that have a calming effect on animals as well as species-specific handling techniques to make your pet more comfortable while being examined.
Fear Free Starts at Home
The Fear Free experience starts at home, and there are several things you can do before your appointment to prepare your pet. They include:
Consider using a sturdy, top-access carrier for your cat, and spraying it with pheromones such as Feliway to reduce your feline's anxiety.
Don't chase your cat to get him or her into the carrier. It's better to let your cat become familiar with the carrier a few days ahead of time by leaving it out, open and with toys or treats inside so they can investigate and become acclimated to it.
If your cat is still stressed in the carrier, you may want to spray a towel with pheromones and put it over the carrier.
When transporting the carrier, pick it up with both hands instead of carrying it by the handle to avoid swinging and banging it while your cat is inside.
For dogs, getting some exercise and running them through a refresher of their commands prior their appointment can relieve stress and instill confidence.
You might also consider bringing your dog in for a "social visit" prior to their actual appointment to familiarize your pet with the hospital. Be sure to bring plenty of treats (we'll have some, too) to make it a super-positive experience.
---
---
If you have questions or want more tips for preparing your pet for the vet, don't hesitate to give us a call at 504-467-6431.