Associate Veterinarian
Prior to vet school, Dr. Marchal attended Chapelle High School and was raised in Kenner. Dr. Marchal earned a bachelor's degree in Wildlife Ecology from LSU before completing her veterinary education at Louisiana State University School of Veterinary Medicine in 2010.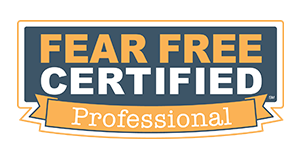 After graduation, she worked at a veterinary hospital in Las Vegas but wanted to return to New Orleans. Upon returning to the city that she loves she has begun working as an emergency veterinarian at MedVet. We feel fortunate to have her on our Chateau team.
Dr. Marchal's special interests include ultrasound, surgery, pain management, ophthalmology, and critical care. She focuses on treating all of her patients as if they were her own pets. In her spare time, she enjoys kickboxing, running, horseback riding and spending time with her pets.
She has three dogs, Jack, Rita, and Pippy, and a cat, Beignet. In September of 2019, Dr. Marchal and her four legged babies, added a two legged baby, Finley James.