Associate Veterinarian
Dr. Ingrid Hellwig has been with Chateau Veterinary Hospital since she graduated from Louisiana State University in 1989. She graduated summa cum laude from veterinary school and has been expecting the best from herself ever since.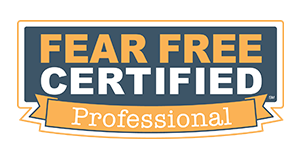 As a member of the American Veterinary Dental Association, she keeps up on the cutting edge of veterinary dentistry and expands the dental services Chateau Veterinary Hospital can offer. Dr. Hellwig has always been hands-on with her dentistry work and performs advanced dental procedures including dental radiography, endodontic and periodontal therapy, and complicated extractions. Her work has greatly improved the quality of life of many of the hospital's patients by relieving pain that sometimes even their owners did not recognize.
Dr. Hellwig is also a member of the Southeast Louisiana Veterinary Association and the American Veterinary Medical Association. Her work is limited to dentistry. Dr. Hellwig is the proud owner of a formerly feral kitty, affectionately called Yard Cat.