Associate Veterinarian
Born and raised in Metairie, Dr. Renee Joubert had always dreamed of becoming a veterinarian. She began this dream by graduating from Mount Carmel Academy and then obtaining a degree in Biological Sciences from the University of New Orleans.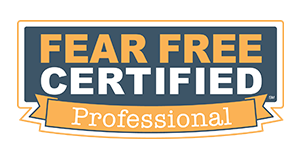 Throughout her collegiate career, Dr. Joubert was employed at a local veterinarian clinic, where she worked her way up from kennel assistant to a veterinarian assistant. Soon thereafter, she was accepted into Louisiana State University School of Veterinary Medicine, where she received her doctorate.
After graduating, she moved back home to Metairie where she accepted a position at Chateau Veterinary Hospital. She has a special interest in ultrasound, surgery, internal medicine, integrative medicine, and rehabilitation.
When not practicing quality medicine, Dr. Joubert enjoys yoga, traveling with her husband, and playing with their three-legged cat, Tripp.