Dr. Gambel was born in New Orleans and grew up in Hammond. She graduated from High Point University in NC with a degree in philosophy and recently graduated from LSU School of Veterinary Medicine in May 2019.
After personally experiencing the healing effects of acupuncture, Chinese herbs, food therapy, and other eastern therapies, she began researching Eastern veterinary medicine and immediately fell in love with its style and approach. She received her certification in veterinary acupuncture from the Chi Institute under world-renowned holistic veterinarian Dr. Huisheng Xie.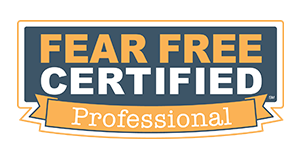 Studying both eastern and western medicine simultaneously has allowed her to gain a full understanding of how the two work together to provide superior care in the prevention and treatment of a wide variety of ailments. In addition to Eastern Medicine, some of her professional interests include behavioral medicine, physical rehabilitation, and dermatology. Dr. Gambel has a special place in her heart for geriatric patients suffering from degenerative conditions and finds that many of them benefit greatly from acupuncture.
She is mom to two golden retriever fur babies: K.Gin and her daughter Rougaroux. Her passion for golden retrievers began in 5th grade and over the years has led to her becoming a golden retriever breeder with the goal of improving the breed and producing top-notch goldens from both show and hunting bloodlines (Gambel's Goldens).
Hobbies/personal interests include running, traveling, hunting, fishing, whitewater kayaking, meditation, and horseback riding.